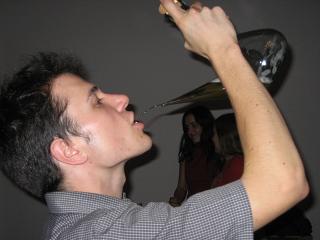 Last time I was in Catalonia I bought a porró and I brought it to China to show my students and friends. El porró is a Catalan jar made of glass we Catalans use to drink wine but sometimes we also fill it with other drinks like beer. It has two holes: one big to pour the liquid and one small to drink.
In China this curious jar has been very welcomed and lately with some French friends we have even done a "titit" competition, that is to repeat the word "titit" as many times as possible while drinking from it.
In the film "La teta y la luna" from the Catalan director Bigas Luna there is a scene where many porrons appear in the sky. I like this film a lot partly because he talks about the Catalan and Spanish culture through our daily life symbols. We could say that it gives more importance to the fact of raising el porró than to raise the national flag or sing the national anthem.
Comentarios » Ir a formulario
Autor: Anónimo
I'm the king of titits in Catalonia and your site fukin rule!!!!
Fecha: 26/06/2006 15:09.
---
Autor: Ghislain
Olà Olà!
I would like to precise to the author of the last "comentarios" that I am the king of "titits" in Lieshimu. The "commandant de la pomme de terre" could confirm.
Ready for the last HoGuo!

Fecha: 27/06/2006 12:17.
---
Autor: Rey
Jaja,tan alegre de tener a lo mejor el unico porro en China!
Fecha: 29/06/2006 05:30.
---