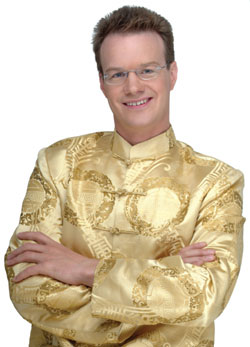 The first years of being in Beijing I watched television a lot in order to improve my level of Chinese, but I could not understand anything. Luckily, there was a program in CCTV5 where a Canadian guy explained clearly the basics of Chinese language. His name was Dashan. Dashan (big mountain) is arguably the most famous foreigner in China and both Chinese and foreigners living here know him, but funnily abroad isn't known at all.
I have to admit it. I loved Dashan. He was my friend. A friend who helped me in those times of ignorance. However, the years went by and that love vanished. Before he was the guy who taught me Chinese, now he is a boring and omnipresent figure. He is in any single TV channel. His picture appears in books, CD ROM, magazines, posters, drinks and even yoghurts. He is everywhere.
Anyway, I am not resentful and today I acted as Dashan in a theatre play at the university to honour him. There were just a few differences: the Spanish Dashan was a little bit fatter, he was dressed in black and had sun glasses. And, evidently, he could not speak Chinese like the Canadian one.